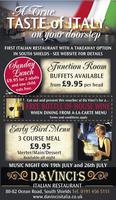 Profile
Da Vinci's is situated in the heart of South Shields. We are passionate about our food and wine which is served in a vibrant friendly atmosphere, by people who care and who have a passion for an attentive service.

We have two dining floors at Da Vinci's, our downstairs restaurant is cosy where you can enjoy a intimate meal for two or a family affair. Or perhaps you have an anniversary or a birthday to celebrate then our Function Room upstairs will be just the place for your special occasion.

If you're visiting the North East and fancy an Italian cuisine, then don't miss out on this 'Hidden Gem' Da Vinci's Italian Restaurant. Great value coupled with the great food and service.

Reservations are suggested... please call ahead so we may accommodate your requests.

For those who wish to eat out on Sundays we also do an excellent Sunday lunch. We have traditional roast beef with Yorkshire pudding and gravy, roast pork with crackling and apple sauce, leg of lamb with mint sauce.
Add rich content via our editing tools
Remove ads from your listing
Appear more prominently in search results